Brits Dominate FIME European Solo Semi Final at Midshires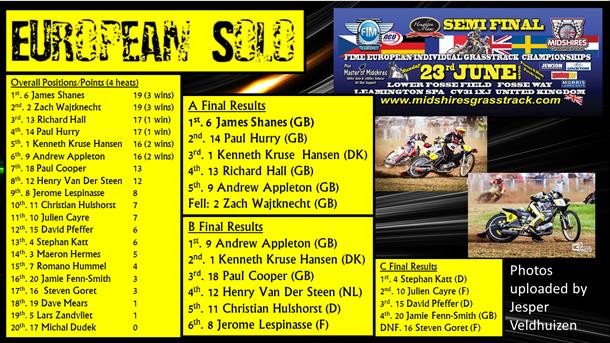 For the first time in their history, Midshires GTC staged a European standard Grasstrack meeting this Sunday. It proved to be a roaring success in more ways than one, and left British Grasstrack fans beaming with pride. With James Wright, Tom Perry and Chris Harris all safely through, all hopes were with the remaining British riders in the competition. The question was whether all six could qualify and flood the European Final with British talent. The partisan crowd was not going to be left disappointed.
From the very first three heats, it became clear that there was a distinct home advantage. Reigning British Masters champion Zach Wajtknecht out-gated former two-time European Champion James Shanes in the opening race to give the sizeable crowd an excellent British 1-2. More joy was felt when another Brit, 2010 Euro champ Andrew Appleton, won convincingly ahead of pre-meeting favourite Romano Hummel. The Dutch superstar was far from at his best as he suffered considerably with an ankle injury.And the third heat, the Brits packed the top 3 places, with Richard Hall claiming the victory over Paul Hurry, with Paul Cooper in third. With such a strong showing from the Brits in the opening rides, the writing looked to be already on the wall for all six to safely make it into the European Final.In fact, it wasn't until the third leg that a British competitor was beaten by an overseas rider. That feat was managed by breakout star of the meeting, Danish racer Kenneth Kruse Hansen. He got away from Cooper and had enough speed to take a convincing win. Cooper still had plenty to finish second.Another former champion, Germany's Stephan Katt, had a difficult afternoon. Although he was starting well, he was struggling to get to grips with the tight turns at the Fosse Way circuit. A tough afternoon's racing saw him competing in the C Final where he won an excellent battle with Frenchman Julien Cayre.For the riders, it was all about finishing in the top nine. This would see their pathway clear to the European Final which will be held at Bad Hersfeld, Germany in August. Delighted to book their places early were four Britons in the form of James Shanes, Zach Wajtknecht, Paul Hurry and Richard Hall. This foursome topped the leader board and were seeded straight to the A Final and a certain spot in the coveted Euro Final in August. The treacherous B Final, where last place would see them as reserves at Bad Hersfeld, loomed for the remaining Brits Paul Cooper and Andrew Appleton.Appleton rode a fabulous ride to claim victory in the B Final, whilst Danish sensation Kenneth Hansen put paid to an all-British A Final by holding Cooper at bay and claiming second. Cooper's third, though, confirmed that all six competitors had safely negotiated the semi-final, and were on their way to the European Final. Dutchman Henry Van Der Steen and experienced German Christian Hulshorst claimed the final two spots. After a dogged, determined few rides, Frenchman Jerome Lespinasse tailed off at the rear and would fill the reserve berth at Bad Hersfeld. A rotten end to the campaign for Lespinasse, who hasn't had the best of luck at this venue in either of his two visits now.In the final, it looked like the Brits would fill the rostrum but a heavy fall for Zach Wajtknecht, whilst holding 2
nd
, saw the race stopped. Thankfully, after receiving medical attention, all seems well for Zach, though he wasn't able to take part in the rerun.In the rerun, James Shanes picked up where he left off, leading from tapes to flag. Paul Hurry, who must be in his veteran years now, finished a fine performance to claim second. But, once again, the Dane spoiling the British party was Kenneth Hansen. A fantastic ride saw him finish third and really impress those on hand at the event. Hansen will be in action at the Floodlit Whoppa next month on Saturday 20
th
July. Given his display here at his first Grasstrack, he could be a real contender at that event.The Master of Midshires titles were also contended for over some ferocious support classes. The 500cc solos class had attracted 11 high quality riders, including Tom Perry, who had already qualified for the European Final. With 11 on the line, all of which were capable of winning, some spine-tingling, breath-taking racing took place.In the opening race, Stephen Green and Tim Nobes put on an absolute barn-burner of a race. However, a fallen rider caused the race to be brought to a halt and the result was declared after three laps. First blood narrowly went to Nobes.Nobes, despite a quick visit to the medical centre to treat a stone-related wound, went on to win the next two heats in emphatic fashion. It wasn't until the final heat where Tom Perry was able to make a quick getaway and lead Nobes over the line. Four tremendous races from the 500cc solos.The 1000cc sidecar class was equally thrilling. Youngsters Kieran Hicks and Kieron Ivy continued to light up the 'big chair' class. First, they won ahead of former British Masters champion Paul Whitelam/Alan Elliott, then they held off reigning British Masters champions Gareth Winterburn/Liam Brown in their second race. It felt like a real coming-of-age day's racing for the Cornwall/Kent pairing. Winterburn/Brown, however, made amends in the final heat. They returned the favour by beating Hicks/Ivy in the last heat before the final. Mark Cossar/Robbie Simmons looked very fast. WInterburn/Brown beat them in their opening ride, but Cossar won his next two rides. This set up the final very nicely, with three crews all with two wins each. Welshman Neal Owen and passenger Jason Farwell had also snuck into the final, having been on superb form all afternoon.Despite winning their opening ride, Matt Fumarola/Gareth Williams had just missed out on automatic qualification for the A Final, and would have to campaign for a top two placing in the B Final. Tom Cossar/Wayne Rickards also found themselves in the B Final, having not appeared for their opening ride at all. Cossar/Rickards had won their last race and looked very quick heading into the B Final.One rider whom perhaps some may have overlooked, however, was Rob Wilson/Terry Saunters. The experienced pairing had finished third in all three of their heats. But, as we've seen Wilson do so many times in the past, he turned on the style right when he needed to. They made a superb start and won the B Final convincingly, missing all of the action happening for the all-important second place. Fumarola/Williams battled hard with Whitelam/Elliott in the early stages, before Cossar/Rickards built up a tremendous amount of speed and rounded the pair of squabbling outfits. A great ride by Cossar/Rickards to dispose of two of the best riders in the class all in one bend. They claimed the second place and a place in the final.Disaster was to strike in the final, however for them. Having been left with the final pick of starting positions, Cossar/Rickards lined the machine up in a deep rut on the start line and missed the start completely when the outfit appeared to ground out.Defending Masters champs Gareth Winterburn/Liam Brown put in a fabulous performance to win the race convincingly. Cossar/Simmons had no answer for them this week, but with the class so open at present, this battle could rage on for several meetings yet.Capping off another fine display, Kieran Hicks/Kieron Ivy fought off a determined pursuit from Rob Wilson/Terry Saunters to claim third.Running European Grasstracks of this standard is an enormous task. Midshires GTC clearly had stepped up their presentation in so many ways on Sunday. What we were treated with was racing out of the top drawer, superbly slick organisation, and a Grasstrack for British fans to be proud of. And the six Britons qualifying was simply the icing on the cake!